PRODUCT DETAILS
Description
The Holographic Cobblestone Pattern Adhesive Vinyl Roll is a .06-0.07mm thick adhesive vinyl for a variety of uses & applications. It is best to work with our low adhesive cutting mat when using the product. Plus, use tools like hot melt glue guns and scrapers when you weed out parts of the pattern.
With this holographic vinyl, you can turn any surface into a 3D illusion right before your eyes. Cut the vinyl sheet to size and apply over the desired surface. Use it at home as an accent piece for handcrafted goods such as signs, letters, banners, and wall decals, or use it in your car for that special feeling of luxury with glass mirrors simply looking their best.
This cobblestone pattern vinyl is also perfect for giving rooms a fresh new look by applying vinyl on walls and windows where you do not wish to print and leaving cloth intact elsewhere.
These patterned vinyl sheets add a unique style to design jewelry, textiles, scrapbooking, and more. It is made with reinforced edges for added durability while cutting. Compatible with nearly every craft cutter on the market currently.
Features
Size: 

12" x 5ft ( 0.305 x 1.55m)

12" x 82ft ( 0.305 x25m)

Thickness: 0.06mm~0.07mm.

Recommend to use with low adhesive cutting mat/weeding hook/high initial tack transfer paper for help

Great for Hand Craft, Home Decor, Signs, Letters, Banners, Wall Decals, Window Graphics, Cars Glass Mirrors, Scrapbooking.

Compatible with most Craft Cutters, Die Cutters, Sign Plotters for art, craft and hobby use.

3D holographic feel

Easily installed on any interior or exterior surface

Waterproof and UV resistant.

Easy to use peel-and-stick back that makes installation quick.

Use this product for your next DIY project
Related post: Is Permanent Vinyl Waterproof?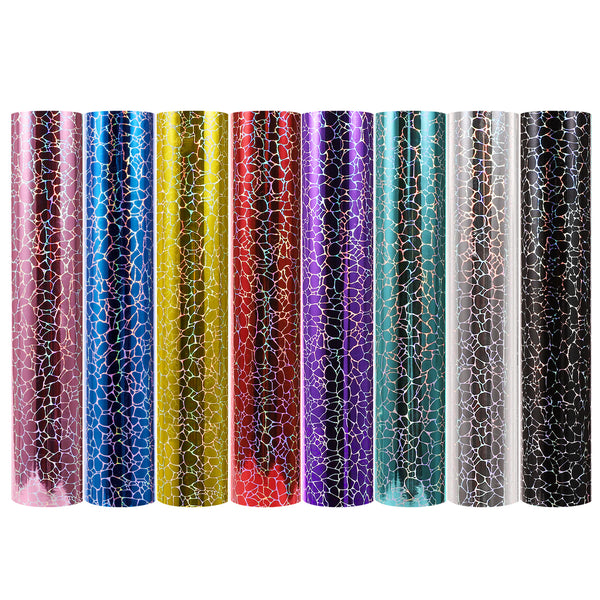 Reviews
Love the Cobblestone vinyl
I really like the look of the Holographic Cobblestone vinyl. And it is easy to work with!
Holographic Cobblestone Adhesive Craft Vinyl
Shipping Terms
We offer shipping as follows:

For USA Mainland (LA Warehouse products ONLY):

Free Shipping on all orders over $39
$30 for all orders under $99.
Free Shipping for all orders over $99

There might be an international transaction fee charged by third party when place an order. 
Custom / Tax / Duty is customer's responsibility to deal with it and pay the respective duty / tax in their country. We are not responsible for any custom / tax / duty.
Customers from Germany, Italy, & Brazil require tax number for their shipment to be processed smoothly.
We do not accept PO Box addresses.
Shipping Time
The current shipping takes around 7 to 15 business days and we will email you once your shipment is picked by DHL ( usually 3  to 5 days after you place an order).
Please bear in mind that there could be unavoidable delays from Shipping carrier due to uncontrolled factors such as COVID-19 and any-other.
Lost Parcels Policy
There are times when your parcel is either delivered to the wrong address or it is lost by shipping carrier. Please contact us immediately for any such situation and follow these guidelines:
If your tracking shows delivered and you did not get the shipment yet, first of all please check your mailbox, porch, surrounding area of your delivery box. If you still cannot find your parcel please contact DHL immediately and feedback us with case number so we can start your claim with the shipping carrier i.e. DHL, FedEx or UPS. 
DHL, FedEx and UPS takes around 15-20 days to fulfill your claim of lost parcels. 
DHL, FedEx and UPS only allow claim for shipments reported lost within 1 month after tracking shows delivered. After 1 month these shipping carriers don't entertain any claim, thus we even cannot do anything, so please contact us at your earliest in case your tracking shows delivered and you didn't get the parcel yet.
IMPORTANT:
For Lost items / damaged items sent from LA warehouse customers needs to take pictures of labels on each items they received and send those snaps to us we will forward the pictures to warehouse & cargo service to rectify the issue.